Welcome back! We're movin' right along in our Back To School Prep Week series! We've talked about
transitioning the daily routine from summer mode to school mode,
and worked out
a system for managing all the paperwork
that comes along with the school year. But what about those papers or projects you want to keep and cherish for the long haul?
At first I considered myself lucky in this department, because I only have one elementary aged child, but wouldn't you know that darn preschool sent home all sorts of papers and masterpieces from my other little's hands too. It was a lot. And could quickly spiral out of control.
At first we used these
smaller file boxes
to corral keepsakes. Whenever the kids brought home work they did at school or we rotated out artwork to keep on display (and the kids couldn't bear the thought of parting with it), it went in their respective box. I know they won't even remember some of those things, but they took comfort that their treasures were being "saved". Then every couple months or so, I would go through the boxes alone for a second purge and throw away things I knew they wouldn't care to lose.
I consider myself pretty cut throat when it comes to keeping papers and art. I just know that it will be out of control if I hold onto everything. So, I try to keep only those things that are truly special (first spelling test, a few favorite art pieces, a couple of handwriting samples that show progress over the year, anything that speaks to their personality at that point in their lives, etc.) With that said, I knew that after awhile these small boxes wouldn't be large enough, and I wanted a better system for the long haul.
That's when I stumbled on
this system
by Toni from
A Bowl Full Of Lemons
.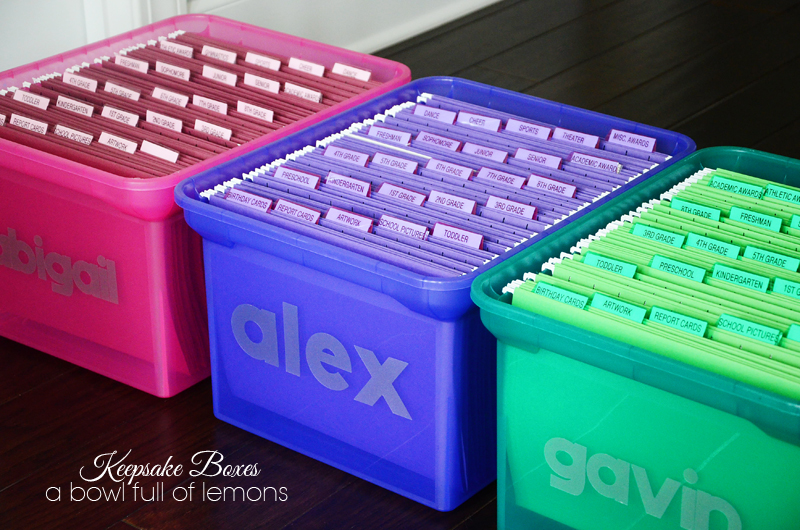 I loved that her system not only included folders for each grade but additional space for all those outside activities that tend to yield even more certificates and paperwork.
The best part is that there's plenty of room to keep those special things from each year, but a limited enough space to force you to be selective. At the end of each year, maybe towards the end of the summer, you can give the most recent folder one last go around and make sure there's nothing else that can be tossed or recycled.
The best part is when the kids are all grown and ready to leave the nest, you have one organized box to hand them.....or to make copies from if you want to keep some for yourself.
Awhile back Morgan from
Morganize With Me
shared some of her
Simple Organized Systems
for back to school....including this
art/schoolwork basket system
that she sorts through on a monthly basis.
It's a great idea for a holding ground for those projects your kids just aren't ready to let go of and a safe spot to store projects you're waiting to see if your kids will really miss. Then periodically recycle what can go and file away what you wish to keep.
I'm sure there are plenty of different ways to crack this nut! Have you found one that works for your family? How do you decide what stays and what goes? Thanks to
Office Depot
I have my large plastic bins, and am ready to label some files! Come back tomorrow for how we avoid a clash of the titans over what to wear each day!