Yesterday
, I announced to the virtual world that I was committing to 30 days of better eating through May. Because internet proclamations mean you'll actually do them, right?
And to prove to anyone that may overhear myhusband ranting about how I'm trying to kill him with "Paleo May", that I am infact, looking out for his best interests too.
In the post I mentioned that I was motivated by
Carmel
and
Jessica's
experiences with Paleo eating, which may have lead you to believethat we were also going to follow that diet.
Close.
We'll actually befollowing the
Perfect Health Diet
, which is a version of Paleo with a few morefood allowances.
The Breakdown
Paleo
– The Paleo diet (also known as the Caveman diet) is basically about eating the way our Paleolithic ancestors did. Eating good whole unprocessed food - meats, veggies, fruits, and nuts - that they could hunt or gather.
This
is a thorough explanation of the paleo food template. The simple man's version is this:
-No gluten
-No grains
-No dairy
-No lugumes
-No processed food
Perfect Health Diet - very similar to the Paleo outline above, but allows for some full fat dairy products (no non-fat or low-fat), white rice, and potatoes.
Here's a short description from
Mandi
(another blogger who has adapted the Perfect Health Diet template for her family):
"The Perfect Health Die
t is a high fat, moderate protein, low carb, no sugar diet. If you've heard of primal/paleo diets, it's quite similar with the addition of a few select carbohydrates (white rice, potatoes, sweet potatoes) and dairy (milk isn't suggested, but sour cream, cheese, etc. is)... The idea behind the Perfect Health Diet is that early humans ate this way for much longer than humans have eaten "modern" diets which include cultivated crops, so our bodies haven't had time to adapt to these dietary newcomers."
This is the food plate from the
The Perfect Health Diet webpage
. It details what you can/can't eat and how much in relationship to each food group. It's going up on our fridge.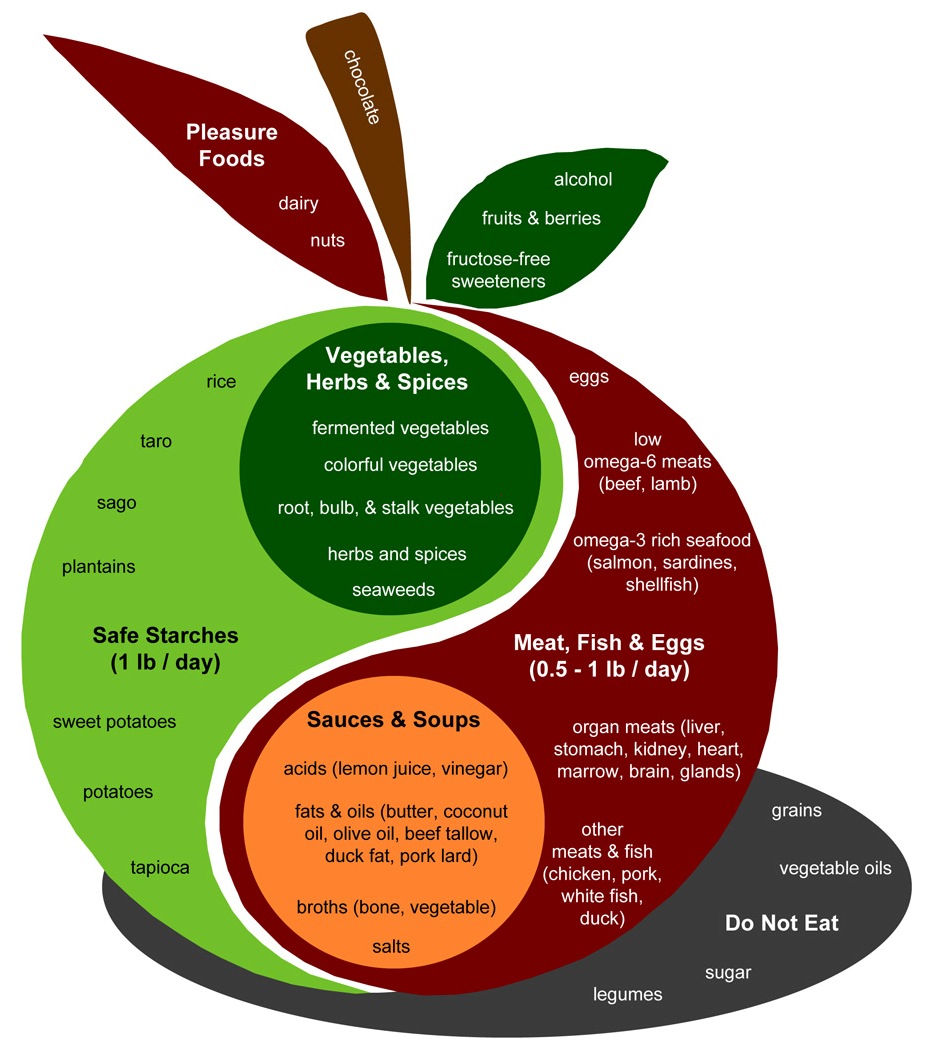 " Suffering from chronic illness and unable to get satisfactory results from doctors, husband and wife scientists Paul and Shou-Ching Jaminet took an intensely personal interest in health and nutrition. They embarked on five years of rigorous research. What they found changed their lives— and the lives of thousands of their readers.
In Perfect Health Diet, the Jaminets explain in layman's terms how anyone can regain health and lose weight by optimizing nutrition, detoxifying the diet, and supporting healthy immune function. They show how toxic, nutrient-poor diets sabotage health, and how on a healthy diet, diseases often spontaneously resolve. Perfect Health Diet tells you exactly how to optimize health and make weight loss effortless with a clear, balanced, and scientifically proven plan to change the way you eat—and feel—forever!"
My limited knowledge of both these diets has been mostly through scouring their websites and blog stalking those who have successfully transitioned their households over to this way of eating.
I'm waiting for my books to arrive viaAmazon, so this is very much a learn as we go process. As I understand more and see how my body responds, I promise to share the details!
Why we chose it
Over the past year we have been making small changes to our diet in aneffort to eat better.
More whole foods,less processed, limited sugar, etc.
James' Lentencommitment this past year was to focus on a healthy lifestyle.
So, we got in the habit of no carbs atdinner, and
I tried to limit any sugar intake to no more than 5g per any packaged products.
While I'm not crazy about the title, I chose a few tofocus on….
#1 - Water before and during meals - helped me to avoid overeating and helps the digestive process
#7 - No carbs after lunch - when you have less opportunity to burn them off
#14 - Eat a real breakfast - my coffee alone wasn't cutting it
#18 - Go to bed hungry - which directly relates to how late I stay up. If I go to bed on time, I'm not hungry, but if I stay up later than I should, I eventually get hungry again....and I'm usually not grabbing for a handful of kale at that hour.
This may sound dumb but we also tried to simply eat slower. James and I both came from the Marine Corps, where we had the art of consuming a meal in under 5 min down to a science. Then we went into parents of young children mode where if you wanted to finish your meal, you had to eat fast. Going slowly allows you to chew your food better (saving your stomach some work on breaking all that down) and it gives your brain a chance to tell your stomach, "hey, you're hitting overload".
These changes have absolutely helped us head in a better direction, but we still lacked an understanding of what certain foods do to our bodies. And really, there are so many differing opinions on food....whole grains are good! No wait, all grains are bad! Dairy is the devil! No wait, some dairy is good! You don't use STEVIA as a sweetener?! It is the ONLY acceptable make-my-drink-yummy-substance out there! No, you should never, ever, ever use a sweetener!! More protein! More fiber! More supplements!....It all just makes my head spin.
Here's what I do know. Awhile back I did a 2 week processed food and sugar detox (including natural sugars like fruit) and I felt a ton better. I had a more even level of energy throughout the day and my mid afternoon crash was not as bad. It was also extreme, so I won't eliminate fruit again. But I'm completely on board with only putting good, whole, unaltered foods into our bodies, and eliminating those that are toxic to our systems.
I also liked the Perfect Health Diet's additional allowance of white rice, potatoes and some dairy, since my hope is that we can do this as a family. I think they will make for an easier transition, especially for the kids. I have a feeling that dairy may be causing some problems for both Jack and I, so I do hope to phase that out altogether as some point.
And did you see the small little section on the chart for chocolate? Enough said.
Problems in the past and how we're setting ourselves up forsuccess
So I've tried this type of food elimination thing before and have always gone back or not been fully committed. We're trying to address some of those pitfalls this time around, so that this is not just a "diet" but a true lifestyle change for us.
-Having the "no-no's" in the house. Part of the reason I've always gone back is because I've done it on my own, so all those tempting foods were still in the house. At first I would just pass on any pasta that we had during meals but after a while it was just too much work to eat differently than everyone else or prepare two different things each meal. We still have some things like oatmeal, quinoa, and nutri-grain bars in the house right now, so I will either give them away or simply not restock them once the kids have gone through them. James is doing this with me and that makes a huge difference as we wade through uncharted waters. We can figure it out together and help keep each other accountable.
-Sweets. I know myself, and I know that I have NO self control. I can not have desserts in the house or I. will. eat. them. James does not like sweets, so if I make a pan of brownies it's up to me and the kids to take it down. I'll usually set aside a few for the kids and then something like this happens....I'll have one. Then another. And another...until I come to the only logical conclusion - I must consume the whole pan that night or it will continue to taunt me for the rest of the week. So, I take one for the team and down the pan of brownies myself. Clearly, I am the hero of the night.
This time, I hope to be a little more prepared. I do enjoy sweets, so I have a few Paleo-friendly cookie and "dessert" recipes on hand, for a guilt free indulgence if/when the urge arises. Many people on this diet testify that they can really taste food so much better. Our taste buds are a little out of whack with all the added sugar/sodium/etc in the processed foods we regularly consume that it takes a while for them to get rewired. But once they do, food has never tasted as good...or as sweet! Fruit is dessert!
-Not having a plan. The key to success is going to be planning. When we don't plan for meals, we'll end up grabbing for something on our "don't eat" list, or throwing together a meal that's lacking in one way or another. The key to this diet is eating the right foods, in the right portions. And eating three large meals a day with minimal snacking. So, if we don't eat a large enough meal or one lacking in say protein, we'll be reaching for something else to fill the gap shortly afterwards. It basically means I have to stop being lazy and plan our meals in advance.
But once we get the hang of it and have our go-to meals down, it will feel less like work and more like second nature. Planning will pay off! And I ordered a couple of cookbooks to help ;)
-
Portions.
Before on these diets I would eat the right foods but all wrong. I would have a huge piece of meat and a small side of veggies. I should be eating a palm size piece of meat and loading up on veggies/fruits where so many essential nutrients lie. Instead of snacking on fruits or vegetables I would grab nuts. I was taking in tons of protein and not enough of everything else.
-
Veggies
. Ok, I know this will sound strange but it's hard for me to eat raw veggies. Some raw vegetables, like carrots and some colored bell peppers, will make me incredibly nauseous. Like dehabilitatingly nauseous for 1-2 hours. It's been very discouraging when I've tried to make better food choices in the past when every healthy snack in the fridge would send me to the couch unable to move. Some fish has this effect too. I was terrified to eat a salad because I never knew how I would feel afterwards. I don't know if it's just my body trying to adjust, specifically a reaction to those foods or those foods in combination with the others I ate with them. I'm keeping a food log this time and hope that will clarify what's happening. I'm also hoping that smoothies will be our new best friend. It's such an easy way to pack in lots of great fruit and leafy greens like kale or spinach.....and the kids think it's an yummy treat.
-The perfectionist – before I would get down on myself when I would slip up and eat something I shouldn't. It would seem easier just to go back to old, more convenient ways. So, this time I'm just going to be a little more forgiving towards myself. Already today (just 2 days in), I was in such a rush that I skipped breakfast. I could have grabbed something quick from a drive through but I just ate lunch a little earlier and made sure it was a very full meal of protein (spanish frittata) and lots of leafy greens and other veggies. It feels really good to put good things into my body. If I can't do it perfectly every single time, that's OK. I'm going to keep going....because moving in the right direction is more important than perfection.
So that's our plan! 30 Days of whole eating and see how our bodies respond. The timing is good. Spring is finally here and soon the Farmer's Markets will be hoppin'! It will be easy to get our hands on a wide variety of seasonal fruits and veggies and hopefully make it a little easier for us to create some new habits. We know that's ultimately what this is about - new habits. It will be hard to break attachments to some of our old foods, but I trust that if we stick with it, we'll have new favorite dishes that are truly nourishing our bodies.
Anyone else venturing into the world of Paleo or PHD? I would love to hear your stories!